This website will offer limited functionality in this browser. We only support the recent versions of major browsers like Chrome, Firefox, Safari, and Edge.
Frequently asked questions
Questions about
Sex Coaching with Rosy?
​​We have answers. We've created a list of all you need to know about Sex Coaching with Rosy. Should you have any additional questions, please don't hesitate to contact us.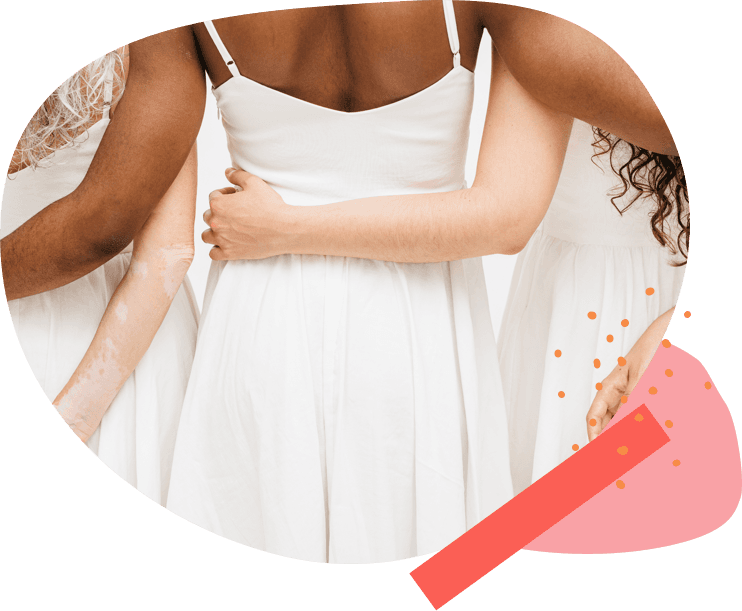 About Sex Coaching with Rosy
What is Sex Coaching? Sex coaching is a practical and actionable approach to help women cultivate the sex life they deserve through education, at-home work and personalized guidance. You will meet with your coach virtually either in an hour-long group or 30 minute individual setting. During your sex coaching session, you will have the opportunity to ask questions, hear from other women like you and walk away with tactical steps to a more fulfilling sex life. Sex coaching with Rosy does not provide medical, therapeutic or health advice.
How do I access Sex Coaching? Both group and individual coaching sessions are included with Rosy Gold and Platinum subscriptions. In the Gold subscription, members have access to two 1-hour group coaching sessions each month. In the Platinum subscription, members have access to two 1-hour group coaching sessions each month AND two 30-minute individual coaching sessions each month for the duration of their subscription.
What are some of the benefits of sex coaching?
Have an authentic and relatable conversation with an expert
Explore new pathways to desire and pleasure
Improve your relationship with yourself and your partner
Learn fun ways to spice up your sex life
Easily accessible from anywhere
How can coaching improve my life? Sex Coaching with Rosy gives you a space to find the support you need to accelerate your journey towards a more fulfilling sex life. You will connect with expert coaches and find new pathways to pleasure.
General Info
In what timezone are the sessions? Session availability will be shown in your local timezone.
What if I need to cancel my session?
For Group Coaching Sessions: If for any reason you need to cancel your reservation for an upcoming Group Coaching Session, please cancel at least 24 hours prior to your session in order to receive the credit back for your coaching session. If you cancel within 24 hours of your session, you will lose that coaching credit for the month.

For Personal Coaching Sessions: If for any reason you need to cancel or reschedule your session, please do so at least 24 hours before your session begins. If you cancel more than 24 hours prior to your session, you will receive a full credit to reschedule your session that month. If you cancel within 24 hours or no-show your session, your credit will be used towards this session.
Do you offer a free trial? From time to time, Rosy will host free coaching events in order for you to see what the fuss is all about! Check back in the app regularly to book a free event and see if coaching is right for you!
What happens if I don't use my monthly group or individual coaching credits? If your coaching credits are not used within a month, they will expire and will not roll-over to the following month. Coaching credits expire at the end of your current month's subscription. In order to check your renewal date, you can visit Your Profile (top left icon in the app), then tap Subscription and your renewal date will be visible.
Billing & Insurance
Does Rosy accept my health insurance, Medicare and Medicaid? At this time, we do not accept insurance, Medicare or Medicaid.
What forms of payment does Rosy accept?Coaching sessions are included with Gold and Platinum Subscriptions which can be purchased in the app through Apple or Google, depending on your device.
Technical Requirements
What technology do I need to use? You can use your mobile device or your computer. We rely on Zoom for both Group and Personal Coaching sessions, so please download the Zoom app on either your phone, tablet, or computer and allow access to your microphone and camera.
Do I need Wifi to use your service? Although not required, for the best experience, we recommend you connecting your session on a WIFI connection.
My connection isn't very good. What can I do? For the best experience, we recommend attending your session on a WIFI connection. If connection problems seem to be an issue during your call, you and/or your coach can try turning off your camera.
Can I have a phone call instead of a video call?
For Personal Coaching Sessions, we recommend having your video on so that your virtual session is as close to an in-person session as possible. But if you're uncomfortable with having your video on during your session, no sweat! You can turn off your video and have an audio-only session.
For Group Coaching Sessions, participants will not be on video. You will be able to see the coach on video but all attendees will be audio-only or on mute.
Booking & Appointments
How do I book a session? Begin by selecting a Group or Personal Coaching Session. If you've chosen a Group Coaching Session, you can reserve a spot for the topic, date and time that works best for you. If you've chosen a Personal Coaching Session, after you select a coach, you will view their availability to book a session at a time that is convenient for you.
Should I do anything to prepare for my session? It may be helpful to think through (and even write down) the issue(s) that you are wanting to discuss, when they started, how they have changed over time, other related issues, and things you have tried to help with the issue(s).
What happens after my coaching session? After your appointment, you will be sent a post-appointment email and survey to let us know how your experience went. You will also receive a link to view upcoming coaching sessions.
How do I begin my appointment? Once you have scheduled your appointment, it will appear under the "My Sessions" section in the Coaching section of the Rosy App. At the time of your appointment, you can start the session in the app or from the link in your email confirmation. The video call will take place in a virtual Zoom setting.
What happens if my individual session goes over the allotted time? The coach will end the visit at the completion of the allotted time. If more time is needed, please schedule another session with that coach to discuss your needs.